In Turkey the art of Illusion is not a path many take, however the locals of Istanbul will appreciate good trick! Doruk Sayar, a friend of mine specialises in card and stage magic. Some of his work can be found here. Not long ago I have offered to assist him with his social media strategy and SEO. Read on to find out my strategy to build up a social media presence from scratch!
You can follow his work on his website: https://www.doruksayar.com/
The Strategy:
A bit of a background: Doruk has been on stage for years, he currently performs in Kadıköy where he does close-up magic. While his competitors have been targeting a different buyer persona for themselves such as birthday parties for children and small gatherings, he has produced videos performing to some Turkish celebrities, defining for himself a bigger audience.
Business goals:
Brand awareness: Despite producing good material the awareness is not as high as it could be.
Word of mouth: The strength of word of mouth is amplified in practices that involve a good showmanship. Nothing gets people talking more than a baffling magic trick. In social media marketing, this translates to sharing the content every time a mind is blown. Not difficult to achieve given his craft.
Leads: Doruk performs to celebrities and he performs in Kadıköy to locals however; there has not been a data driven analysis in place to back it all up.
Social goals:
Reach
Shares, Likes, Retweets
How do we do it?
Suggestions I have made involve card flourish tutorials, if you have never seen one it's because not many people can do it! It involves shuffling playing cards in fancy ways:
The content produced will involve easier card shuffles an enthusiast can learn, they will be sorted by difficulty. This content will target card magic enthusiasts and increase the traffic to the website. The content will be exclusive to the website. We don't want to give away too many secrets!
Slo-Mo card shuffles: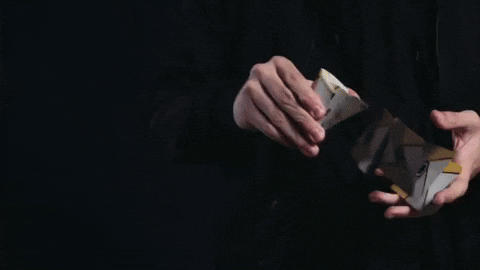 These will not have tutorials as they will serve as stunning visuals. They will be shared across all social media platforms such as Twitter, Instagram and LinkedIn. The art of card flourishes are fairly unknown. These will be the content that people want to share with their friends – meaning increased brand awareness and traffic to the website.
Street magic:
We will produce videos of Doruk performing on the streets of Istanbul, reaction videos are popular and this would serve as a campaign to increase brand awareness.
Celebrity Endorsements:
Doruk has already performed to a number of celebrities in Turkey. An endorsement from one of the famous personalities would not only increase the website rank on SERPs but also increase awareness and drive traffic to the website.
Further action?
Depending on Google Analytics data, strategy will be revised. This blog will be updated as new developments are introduced.
(SERPs before optimisation)                      (SERPs after optimisation)
Thank you for reading!
I suggest all my colleagues in the University of Salford to try to find a friend who they can help with their digital marketing. It is one thing to follow a brief with a given path and it is another to become the whole of digital marketing department, free to implement what you have learned.